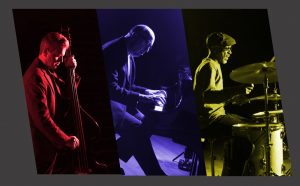 The Straight Up Jazz Trio has been playing together since 2014 in Northeast Connecticut, USA. The trio format is a special ensemble in jazz, with a tradition going back to the early swing era. With a basic instrumentation of piano, bass and drums, the musicians can explore and reinterpret music spontaneously. Trios led by Bud Powell, Bill Evans, Ahmad Jamal, and Keith Jarrett have often been on the creative forefront in jazz, and continue to serve as an inspiration to contemporary musicians. The Straight Up Jazz Trio continues in that tradition, playing material from the standards repertoire in an expressive, adventurous, and visceral manner.
The trio members are:
Pianist Anthony Cornicello is a Professor of Music at Eastern Connecticut State University, where he has taught jazz piano as well as directed the Eastern Jazz band. Anthony has been involved with jazz since the 1980s, leading his own ensembles and playing with avant-garde groups such as "Inside/Out".
Rick O'Neal is a Bass Player for a few regional bands including Delta Generators, ONeal Armstrong and Straight Up Jazz. Rick has appeared at the San Francisco and Montreal Jazz Festivals, and has opened for Etta James and BB King. He is now an adjunct Professor at Eastern Connecticut State University.
Drummer Venlo Odom has been a professional musician for over 40 years, playing with Barry White, The O'Jays, John Lee, Jimmie Smith, amongst others. He has played in major venues, including B.B. King's (NYC), The Apollo Theatre and Mohegan Sun's Wolf Den, and has appeared on many recordings. Venlo is currently working towards a BA in Music Performance at Eastern.
Booking: StraightUpJazzTrio@gmail.com
Mgt.: Rick.Oneal@Gmail.com, (508) 454-3344
Facebook: @StraightUpJazzTrio
Web: www.nimbitmusic.com/straightupjazztrio